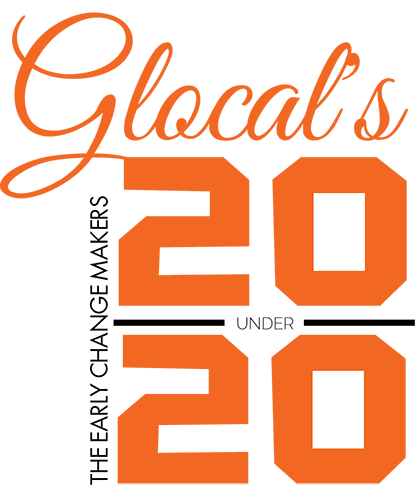 Glocal's 20under20 as part of
Glocal Teen Hero
is an umbrella title for 20 early change makers, who are teenagers from diverse fields, stepping out to create an impact in the society. Glocal is dedicated in recognizing these teenager's initiative, achievement naming 20under20. This umbrella title is the game-changers who have done something worth an inspiration in their life. Glocal's '20under20' aims to recognize these enthusiastic young souls who have the vision to do something ordinary in the most extra-ordinary way possible. We believe in their dreams and want to acknowledge these diverse talents who hold the potential to be the change-makers and the future leaders. Throughout the year, Glocal's 20under20 shall work cohesively for identification of opportunity, fostering networking and collaboration and doing works to create an impact in the society. They are expected to use their existing knowledge and experience to initiate works and enhance their leadership and other qualities. Also, paving their way towards becoming future leaders by being interactive and proactive.
Meet 5 Teenagers from 2023 #Glocal20Under20
Madhav Khanal (18 yr old ), Writer, believes that learning from a wide variety of skills is a pragmatic choice to be a successful social entrepreneur in future. He aspires to share this freedom of intellectual curiosity among young minds. He is an enthusiastic writer and educationalist. His research projects in Physics and Literature are meant to have community impact such as the nuclear research is aimed for safety in hospitals against radioactivity, the literature project is aimed at protecting Nepalese folktales ,and the quantum computing project is meant to have a faster algorithm for maximizing resources in Nepal.
Diwash Sarraf ( 17 yr old ), Social Activist, working for 6 years in the field of child rights participation protection and mental health. He demonstrates the knowledge of society, child rights, human rights, child participation, and development around his place. He has significantly contributed to the greater movement to promote mental health as a crucial component of total well-being by making services more accessible, raising awareness of them, and giving people the power to prioritize their mental health.
Dikshya Bharati ( 18 yr old ), Health Activist, is an enthusiastic individual to work to make a positive change in the community and learn through the process. At the age of 13, she joined Nepal Scout and has been volunteering in different programs and has done different plantation programs and littering control. She works to ensure that the general people receive the access to appropriate healthcare services and spread the knowledge regarding health issues addressing the existing health issues. Her motto is "To make this earth a better place whoever lives in it".
Avinash Kumar Paswan ( 17 yr old ), Musician, is fond of teaching, photography, and economics. But the preservation and development of the Maithili language are my major priorities. He deeply appreciates his cultural history and actively works to promote Maithili and assure its preservation for future generations. He is a Maithili musician and music producer, who has been using FL Studio ( Music arranging Software ) to program music since 2018.
Atith Adhikari
(17 yr old), Social Entrepreneur, He is a hard-working and motivated individual with a passion for increasing access to educational resources through digital education. With a strong background in web development, content writing, and leadership, Atith has dedicated himself to creating opportunities for others to learn and grow. Over the years, he has developed his commitment to increasing access to digital education through his work.
We will introduce you to rest of the Glocal 20 Under 20 in next three of the Teenager Change Makers series. While, keep yourself updated through our blog on Glocal Teen Hero 2023 as each year.
View Your Choice- तपाईको सोचाई हाम्रो रोजाई - is one of the supporting partners of Glocal Teen Hero since inception.
Glocal Teen Hero team blogs for View Your Choice on this year's coverage as part of the collaborative partnership.
View Your Choice encourages every positive influencing initiative and collaborates to generate a story to share for all our readers.
Want to collaborate with us ? If you are one of the positive influencer or an organization driving change and creating impact or be it any initiative that you are involved with just drop a email to us at
and we will get them posted after our team communicates with you.
Follow us on Social media - Find the icons on the right corner of our blog/ web platform.